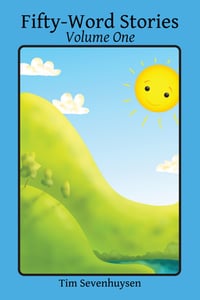 $

10.00
Fifty-Word Stories: Volume One is a collection of one hundred stories that are all exactly 50 words long, written by Tim Sevenhuysen and posted to FiftyWordStories.com between February 22, 2009 and February 21, 2010.
The stories gathered into this collection have been edited, polished, rewritten, and otherwise improved. They are accompanied by a small selection of nanofiction (stories written to fit within a single 140-character Twitter post).
Also included in this book is a Tips and Tricks section, which contains a variety of helpful advice for writing your own microfiction.